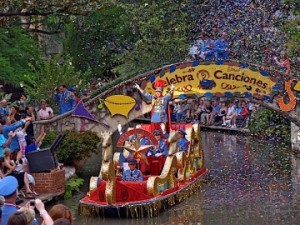 This weekend is Memorial Day weekend and one of the traditions is an outdoor barbeque. Due to the recent weather conditions, city and state officials are urging caution with our outdoor cooking. Please check with park officials on cooking restrictions and have a great weekend.
The Kerrville Folk Festival is held annually in Kerrville on Texas Hwy 16. The event starts on Thursday and continues for 18 days with performances by more than 100 singer, songwriters and their bands.
Friday evening features Cool Jazz Benefit for Eva Longoria's charity Eva's Heroes to benefit teenagers and young adults with special needs to transition with necessary independent living skills.Starting the summer sizzle with some cool jazz. The evening event will be held at 7pm at the Sunset Station.
Live Oak is once again hosting a Memorial Day Parade on Saturday, May 28, 2011. The parade kicks off at 10:00 a.m.
Sunday is the American Hero 25k Relay at Alamo Stadium to raise scholarship funds for kids graduating from our local area high schools who have had serious problems such as cancer, blindness, and child abuse. The event honors our American Heroes: the men and woman who have dedicated their lives to public service careers in the military, law enforcement, fire and other first-responder needs, and teachers. All military personnel and children under age 10 get free admission to view the running and the concert. Admission for everyone else is a $15 donation. This event is at the Alamo Stadium and Brackenridge Park.
Monday is the annual observance at Fort Sam Houston National Cemetery. The ceremony begins at 9:30 a.m.