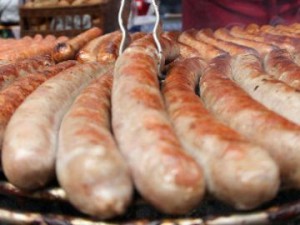 Wurstfest is an anuual celebration held in New Braunfels that has been honoring it's namesake since 1961. This 10-day festival provides plenty of food, fun and entertainment for the entire family. The dates for this year's festival  are November 4th through November 13th. The opening ceremonies kick off today at 5 pm and the continues until midnight. Admission is $8.00 with children 12 and under are free, this includes access to all entertainment areas and is for the entire day. For one free admission with one paid admission from November 6th – November 9th please click here Wurstfest Coupon  .Here are the hours  for the festival:
Monday- Wednesday 5 pm – 10 pm
Thursday and Friday 5 pm – Midnight
Saturday 11 am – 1 am
Sunday 11 am – 8211; 10 pm
For more information about Wurstfest, please click here to visit the Wurstfest website.